The NEXT West Coast Historical Militaria Collectors Show will be May 8-9, 2020!
Thank you to everyone for making our most recent May, 2019 event a success story, we enjoyed a great crowd Friday/Saturday and overall it was a very fun weekend – excellent vibe! Thank you to our dealers for their participation, we had a great variety of quality items for sale! We are continually gaining momentum with our very specific show format and we feel the dealers and public really enjoy the experience!
Vintage Productions is once again bringing together quality militaria dealers from all around the world for our ALL MILITARIA show at The Fairplex in Pomona – this will be our 14th year at Fairplex, which will make 22 years in show promotions! Our next event is scheduled for Friday, May 8th and Saturday, May 9th, 2020 – no Sunday hours. We will continue focusing considerable effort on promoting and growing our May event – please note we moved the show to Fairplex Building #9 in 2019 and will CONTINUE in Building 9 moving forward. We will be making great strides to provide our dealers with an even better event each year!
We hope our dealers and public will continue to be supportive as we forge ahead and evolve this annual event into a better and better show. We would like to invite all of our current, previous and new historical military antiques and collectiblesdealers to attend our May, 2020 event. Be aware that table reservations will not be accepted without payment – please plan to complete your paperwork ASAP (CLICK ON THE VENDORS TAB ABOVE – PDF OF CONTRACT IS NEAR BOTTOM OF PAGE), in order to secure your space. Are you a serious collector? If so, we invite you to come early and get a first look; purchase your EARLY BIRD BUY-IN pass, available during Dealer load-in 3pm-6pm on THURSDAY, cost is $95 and the pass is good for the entire weekend!
Friday, May 8th & Saturday, May 9th, 2020
Thursday, May 7th: Dealer load in 3pm-6pm (subject to change)
Friday, May 8th: Additional dealer load in time (as needed): 8am-10am
Friday, May 8th: Open to public 10am-6pm
Saturday, May 9th: Open to public 9am-5pm (no Sunday hours)
NOTE: We will NOT be hosting a costume contest – until further notice
SHOWCASE RENTALS NOW AVAILABLE AT THE SHOW!
PLEASE CONTACT DOUG BARNARD DIRECTLY: CLICK HERE TO EMAIL
This show will be showcasing a HUGE assortment of superior historical militaria antiques and related collectibles from all time periods and countries – all well represented! Building #9 will be home to over 350 tables with hundreds of quality dealers, as well as a few unique displays from collector groups! Great for the novice or expert collector! Bring the entire family! Active Military and their families are always FREE.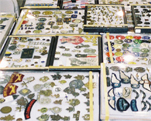 Vintage Productions works day-to-day in the Militaria collectibles business and the owner, Bob Chatt, brings 30+ years expertise in militaria and vintage clothing. Our show promotion experience includes owning and promoting The San Diego Historical Militaria Collectors Show (8 years at The Scottish Rite in San Diego) and a past partnership with The RBF Show in Pomona (November 2003 to our final show in May, 2005).
Vintage Productions is pleased to bring you our annual, all-military show featuring what will be an impressive variety of militaria from all time periods and countries! This show is to be held at the Pomona Fairplex, Building 9 (Fairplex is the same location used for many years by the Great Western Show).
Our kick-off event was held November, 2005 and was a HUGE success – we had a great assortment of dealers and a large crowd. Each subsequent show will now be held annually, in May of every year, and we are looking forward to an even better event this coming May, 2020!Note: Dealer set up is on Thursday, May 7th 3pm-6pm and Friday, May 8th 8am-930am