PLEASE READ BELOW – OUR UPCOMING MAY 2021 SHOW HAS BEEN POSTPONED …… The NEXT West Coast Historical Militaria Collectors Show will be October 29-30, 2021!
UPDATE 1/30/21: We were informed this week by the LA Fairplex administration that due to many unforeseen and continuing challenges concerning the Covid-19 pandemic, they will not be allowing any in person events at their Los Angeles County Fairplex property until (possibly) late summer. After much discussion, and in an effort to avoid conflicts with other collector shows around the US (and to also avoid extremely hot summer weather), we were given, and accepted, an option to move the show to this fall. We will now be planning on our event taking place the weekend of October 29th and October 30th, 2021 at the LA Fairplex in Building #4. Thank you to everyone for their continued patience and understanding as we all work through the frustration of so many show closures and postponements. Thank you for being flexible and supportive…The show WILL go on and we are looking forward to seeing everyone in October!
UPDATE 12/12/20: We will be moving the show from our usual Building 9 to the much larger Building 4 at Fairplex in May 2021 so that we can spread out dealer tables and offer safe social distancing for everyone. We are hopeful the show will go on as planned, barring any other unforseen Covid related issues. We are making every effort to move ahead and do whatever we can to ensure the health, safety and comfort of our dealers and patrons.
APRIL, 2020: To all of our dealers, friends and customers that we care deeply about…We are sad to announce the rescheduling of the upcoming West Coast Historical Militaria Collectors Show. As you know, our annual event occurs every May, however, due to increasing COVID-19 concerns and a recent executive order from Mayor Garcetti to close all LA County entertainment venues (including The Fairplex/LA County Fairgrounds), we have been given no choice and the show has been forced to reschedule to next year, on May 7-8, 2021.
As most of you know, we have been unwavering in our desire to follow through, as planned, with this event, so we were very disappointed to get the call from The Fairplex stating they are completely shutting down ALL of their events. They are hoping to review the situation in "early May" but there is no set plan and they can only reassess when the time comes. Unfortunately, we were given no viable options to reschedule dates for anytime this year, so the best scenario was to secure our dates for next May, on our usual weekend.
We want to thank all our loyal dealers who have unfailingly supported this unique show, many of them for 20+ years. We also want to thank the large number of new dealers who wanted to join us this May. And of course we are very grateful to the public who support shows like ours; the exceptional groups of hobbyists, collectors, history buffs, reenactors, museums, veterans and their families and so many more. We greatly appreciate each and every one of you. Please be aware that if you have paid for tables, we will be rolling everyone over to the May 7-8, 2021 show date at The Fairplex, in Building 9. Thank you for continuing to support this show, this industry and this hobby. If you have not signed up yet, and would like to be a part of The West Coast Historical Militaria Collectors Show, please mark your calendar for this new date May 7-8, 2021 and join us (a new contract and info will be added to this website soon).
In addition, we have been in touch with our sales reps at the onsite Fairplex Sheraton Hotel and informed them we have been required to reschedule the WCHMCS May show, and therefore must reschedule the hotel rooms associated with the event. If you have reserved your own personal rooms at The Sheraton Fairplex, we advise you to contact them directly to cancel those reservations as soon as possible.
While we are disappointed about being forced to move the show, the well being of others is certainly our bigger concern. So, please look out for one another; it really is critical to support one another during these challenging times. Check in on your elderly neighbors, don't take more than you need at the grocery stores, and let those that matter to you know just how much, every single day. The impacts of COVID-19 on our collector community has been vast and there is no question this is a time of great uncertainty. While we don't know exactly what the future may hold, we feel confident that by sticking together and supporting each other, we will emerge from this stronger than before.
Our thoughts are with all of you and we hope you are all safe and healthy.
Bob and Danielle Chatt
at The West Coast Historical Militaria Collectors Show
Vintage Productions will be bringing together quality militaria dealers from all around the world for our ALL MILITARIA show at The Fairplex in Pomona – 2021 will be our 15th year at Fairplex, which will make 23 years in show promotions! Our next event is now scheduled for Friday, Oct 29th and Saturday, Oct 30th, 2021 – no Sunday hours. We will continue focusing considerable effort on promoting and growing our event – please note we will be moving to Building 4 in Oct 2021 only (to accommodate social distancing needs). We will be making great strides to provide our dealers with an even better event each year!
We hope our dealers and public will continue to be supportive as we forge ahead and evolve this annual event into a better and better show. We would like to invite all of our current, previous and new historical military antiques and collectibles dealers to attend our event. Be aware that table reservations will not be accepted without payment – please plan to complete your paperwork ASAP (CLICK ON THE VENDORS TAB ABOVE – PDF OF CONTRACT IS NEAR BOTTOM OF PAGE), in order to secure your space. Are you a serious collector? If so, we invite you to come early and get a first look; purchase your EARLY BIRD BUY-IN pass, available during Dealer load-in 3pm-6pm on THURSDAY, cost is $95 and the pass is good for the entire weekend!
Friday, Oct 29th & Saturday, Oct 30th, 2021
Thursday, Oct 28th: Dealer load in 3pm-6pm (subject to change)
Friday, Oct 29th: Additional dealer load in time (as needed): 8am-10am
Friday, Oct 29th: Open to public 10am-6pm
Saturday, Oct 30th: Open to public 9am-5pm (no Sunday hours)
NOTE: We will NOT be hosting a costume contest – until further notice
SHOWCASE RENTALS WILL BE AVAILABLE AT THE SHOW!
PLEASE CONTACT DOUG BARNARD DIRECTLY: CLICK HERE TO EMAIL
This show will be showcasing a HUGE assortment of superior historical militaria antiques and related collectibles from all time periods and countries – all well represented! The show will host over 350 tables with hundreds of quality dealers, as well as a few unique displays from collector groups! Great for the novice or expert collector! Bring the entire family! Active Military and their families are always FREE.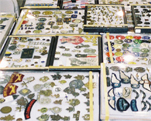 Vintage Productions works day-to-day in the Militaria collectibles business and the owner, Bob Chatt, brings 30+ years expertise in militaria and vintage clothing. Our show promotion experience includes owning and promoting The San Diego Historical Militaria Collectors Show (8 years at The Scottish Rite in San Diego) and a past partnership with The RBF Show in Pomona (November 2003 to our final show in May, 2005).
Vintage Productions is pleased to bring you our annual, all-military show featuring what will be an impressive variety of militaria from all time periods and countries! This show is to be held at the Pomona Fairplex, Building 4 (Fairplex is the same location used for many years by the Great Western Show).
Our kick-off event was held November, 2005 and was a HUGE success – we had a great assortment of dealers and a large crowd. Each subsequent show will now be held once per year. Note: Dealer set up is on Thursday, Oct 28th 3pm-6pm and Friday, Oct 29th 8am-930am